It was an exciting day in the Cotter household because it's Bean's feast day!
This photo has little to do with the Feast of St. Clare, but it was taken today.
I probably don't need to tell you this, but we had donuts for breakfast. Done.
Then we listened to a Glory Story on St. Clare. Glory Stories are produced by a Catholic company called
Holy Heros
who put out some fabulous resources for Catholic families.
The story was a little intense for my sensitive girl, but in the end when everything worked out she was fine. We had some great conversations over the story later in the day, so she was definitely taking it all in! I hope to add more of these to our collection over the years.
When St. Clare's convent was under attack by Emperor Fredrick II, who was at war with the Pope, she brought out a monstrance, held it high and began to pray. Her prayers were heard and the army fled. Thus you often see St. Clare holding a monstrance.
Naturally for a craft today we made monstrances.
I believe this is the last time I will ever give my kids glitter glue.
Finally we read the book Clare and Francis by Guido Visconti. This book was a gift Bean received when she was born from a great friend ours, Stacy. It is a beautiful book with amazing details that I am still discovering each time we read it.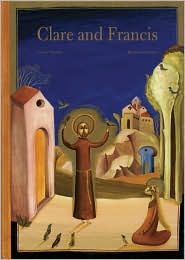 St. Clare, pray for us!